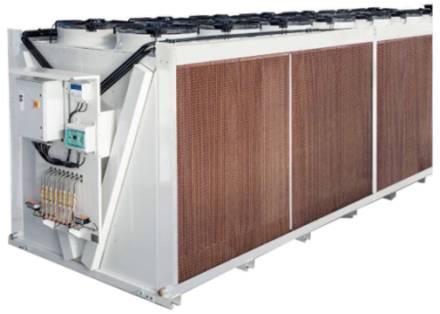 Wet-wall evaporative cooling systems for air cool chillers
In air conditioning system condensing temperature decides power consumption of the compressor.
Condensing temperature is temperature up to which refrigerant is compressed so that it can dissipate heat to out side atmosphere and condensed to liquid to continue the cycle
Higher the outside temperature , We have to increase temperature of refrigerant i.e higher compression of the refrigerant to get higher temperature i.e. higher power requirement for compressor
Every one degree increase of outside temperature i.e. condensing temperature , Power consumption is increased by one percent i.e why we get higher Power consumption in summer when ambient temperature is high
We place Aqua cool Direct evaporative cooling pad in the path of air entering on the condensing coil to reduce temperature of incoming air close to wet bulb approach i.e 80 % of difference between current dry bulb and wet bulb temperature .
We circulate water around the evaporative cooling pad so that incoming air is cooled with the best direct evaporative cooling efficiency.